Navarro y Boronad, SL offers quality services as port and ship agents, readily dispatching ships whilst avoiding delays and minimizing costs. This is achieved due to our in-depth experience in the field after many years of working it and always upholding the interests of internationally prestigious maritime companies and market leaders.
Guaranteeing shipowners the best assistance prior to the ship's arrival at port; throughout its mooring stop whilst calling at port; and after its departure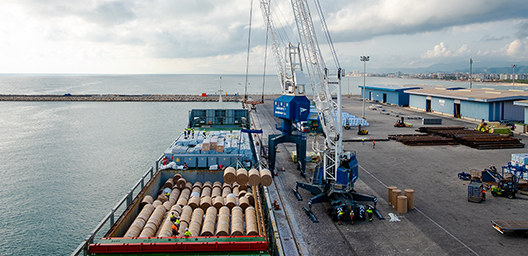 Issuance and management of all cargo-related documents (statements, manifests), thus avoiding any operational delays.
Our company's true core.
We have wide experience with stevedores in exports and imports; clearly specialized in forest products (paper, wood, sawn wood, wood pulp); and operating as well with steel products, project cargo and solid bulk, relying on a great team of experts and technical resources. As such, we shorten port call stops, whilst always ensuring the utmost professional handling of our final clients' cargo, carefully avoiding any damages.
There is a perfect alignment of interests between the Company and the stevedores, who are highly professional and with long continuity. This results in solid outcomes, clearly tangible in the both the safety and time-saving handling of our traffic.